What is the idea ..?


A

motorfloater

is an ultralight airplane with a small motor that flies very slow. The pilot sits completely out in the open, flying in a simple and easy way.
Flying a motorfloater is a lot like flying a paramotor but with the stability, control, wind tolerance, and crash safety of a light airplane or airchair.
Exposed flight is comfortable at low speeds, allows an excellent view, and provides a
special kind of flight experience.


The motorfloater differs from other airplanes in having a very light wing loading, allowing slow flight and tight turns.
A motorfloater wing loading is similar to that of a hang glider (less than 2 pounds of gross weight per square foot of wing), and it has a light empty weight
(United States FAR Part 103 compliant, less than 254 lbs.).
My idea of a motorfloater differs from paramotors, powered hang gliders, and microtrikes in having a tail (for pitch stability), a fixed rigid wing (again for stability, without deployable fabric canopy issues), and more fixed structure around the pilot (for crash protection). A motorfloater does not try to be everything that heavier airplanes are, it is more of a motor scooter with wings.

I designed and built the Bloop 2, a motorfloater, which has been flying since July, 2012, and has proven to be an enjoyable recreational airplane. Its measured level flight cruise speed is 24 miles per hour, flying in the speed range of the hang gliders and paramotors. It is perhaps the slowest airplane ever, fulfilling its design goals.


I use simple controls, garage technology construction, and a paramotor engine. The stall and spin characteristics (if any) should be very mild and forgiving, and an unaccelerated stall with moderate weight pilots does not have any abrupt results. At my weight I can fly with the control stick full back and still maneuver, although the nose nods up and down, and the sink rate is high. The emergency parachute is hand deployed, as it might be on a hang glider or a trike, a realistic option when the pilot is out in the open.

The Bloop is built mainly of aluminum tubes bolted together and braced with braided steel cable, covered overall with light but conventional aircraft fabric. This "garage construction" involves using mostly a hand held power drill and a hacksaw, not using any welding, sheet metal, specially machined parts, jigs, molds, nor a spray rig.


The Bloop was origially the Pig glider, with an engine added later. (See the Pig Page for details on this airchair glider.) The Bloop 2 with engine and emergency parachute weighs about 194 pounds. The power package is a
modern paramotor system, a
Vittorazi Moster 185 two stroke engine (25 hp.) with a 1.3 meter two bladed propeller (same for Bloop 1 and Bloop 2). The engine is started by a rope pull (recoil) and uses synthetic oil mixed into the Avgas fuel. In flight I use two instruments: a tachometer (engine
crankshaft
speed in revolutions per minute) and an exhaust gas temperature gage.

For simplicity,
the Bloop has no ailerons, the plane is controlled by
the rudder (or rudders) and elevator only. This is a traditional two axis system (ala Weedhopper, Flying Flea, Skypup, early Quicksilver MX, etc.) which requires two axis flying procedures. For example, when you are rolling on the ground in a cross wind, you keep the nose low so the weight is on the wheels, which will keep the wings level. Taking off or landing in a crosswind requires maintaining a crab angle rather than a slip when the wheels are not on the ground. Ordinary flight maneuvers are accomplished with the two axis system in essentially the same way as the three axis system, such that an experienced pilot may soon become indifferent as to which system is in use.


I don't taxi much, I walk the plane to and from the runway, which is practical with a well balanced airplane that isn't heavy. A pilot who walks his plane instead of taxing can see better, has better control, and is safely out of the plane if extreme weather suddenly arrives. Walking the plane reserves your hot engine time for flying instead of ground travel, and it avoids raising dust and making noise at the airport.
In consideration of other air and runway traffic
, the Bloop can scoot onto or off the runway
with the pilot seated when necessary.


It is often asked why the Bloop does not use a more conventional landing gear system, with a tail wheel or nose wheel. My answer is that I have not seen a conventional nose wheel or tail wheel setup that would allow for high wind safety at this low wing loading.
A motorfloater must be able to roll with the nose low and stop with the nose down, firmly gripping the ground, so it will not be blown away.
The wheels of the Bloop are located near the center of lift, so the pilot can choose stop on the tail skid or the nose skid.

The start and stop positions in substantial wind are expected to be nose down on the skid, like a sailplane
trainer

or an airchair glider.
The Bloop 2 has been tied down outside at my local airstrip for two years now, with plastic tarps over the engine and cockpit areas, and I find this to be convenient and satisfactory. Others may use hangars or folding wings, but I can get flying just as fast and without all the fuss. I don't recall the last time I used a hard surface runway or ailerons, and I don't miss either one.

The name "Bloop" is intended to suggest a kind of combination blimp and plane, a slow and casual flier.
Hot pilots who want speed and thunder will have little interest in the Bloop. Motorfloaters are for the other kind of flying. The Bloop is a "put-put" for local flights, just for fun.
This is a non-commercial project, so nothing is for sale, but I encourage commercial production of a motorfloater like this. All of the materials on my websites are freely available for whatever purposes the user may desire.


What is the plan ..?

The Bloop 2 prototype flies on,
exploring the benefits of slow flight, including the experience of open air flying, simple controls, and crash safety.
Flying a motorfloater should be the easiest and safest way to fly, with airplanes designed for
gentle and predictable handling
, slow flight, simple controls, and crash safety.
The ability of the motorfloater to keep flying under control even at the lowest airspeeds, with no stall or spin hazard, is similar to the flying
of some light trikes and hang gliders, but with easier control and superior crash protection for the pilot.
L
ow burden access to simple recreational airplane flying might be provided by building an airplane that flies like a paramotor. Flying at the same airspeed, with the same engine, seated position, same instruments, and very nearly the same controls, a pilot who has entered aviation by paramotor might easily transition to a motorfloater. This might be a "single seat" transition, guided by the local paramotor instructor who is now also the local motorfloater instructor.

For developments see the Bloop News page.

The pilot decides
whether to stop on the nose skid or the tail skid.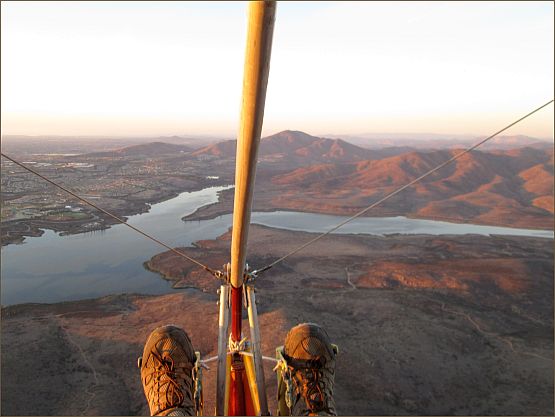 An unobstructed view with good ventilation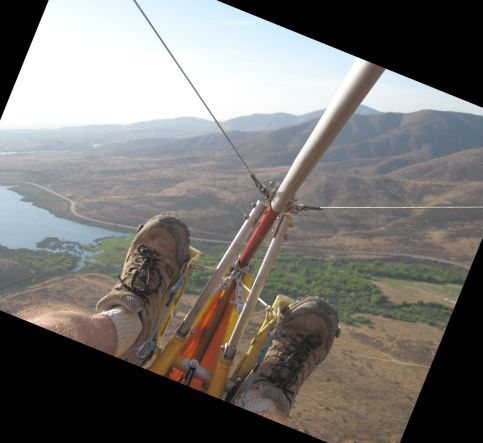 Without ailerons, only the rudder pedals are used for turning.